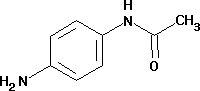 4'-Aminoacetanilid
Product Code : LC327
Product Description
Our infrastructure is empowered with an in-house processing unit, backs us in offering 4'-Aminoacetanilid. It is used in the synthesis of various organic compounds. We process this chemical at our sound processing unit, using high quality compounds. Offered chemical is used textile, plastic and rubber industry. This chemical shows analgesic and antipyretic effects. 4'-Aminoacetanilid is widely used as a nonprescription drug with analgesic and antipyretic effects. We offer this chemical at reasonable prices.
Features:
Stable under ordinary conditions
Slightly soluble in water
Light red brown crystalline powder
LC327 4'-Aminoacetanilid

| | | | |
| --- | --- | --- | --- |
| Order number | Packaging | Quantity | Price |
| AC27327 | Plastic bottle | 250 g | 23.625 |
Product information
Synonyms
p-Aminoacetanilide, 4-(Acetylamino)aniline, N-(4-Aminophenyl)acetamide, p-Acetamidoaniline
Hill Formula
C8H10N2O
Chemical formula
4-(NH2)C6H4NHCOCH3
HS Code
2924 29 98
EC number
204-576-6
Molar mass
150.17 g/mol
CAS number
122-80-5
Chemical and physical data
Solubility
(20oC) soluble
Melting point
165oC
Molar mass
150.17 g/mol
Bulk density
550 - 650 kg/m3
pH value
7.2 (1 g/l, H2O, 20oC)
Flash point
195oC DIN 51758
Safety information

R Phrase
R 36
Irritating to eyes.
S Phrase

S 26
In case of contact with eyes, rinse immediately with plenty of water and seek medical advice.
Categories of danger

irritant
Hazard Symbol

irritant
Storage class

10 - 13 Other liquids and solids
WGK

WGK 1 slightly water endangering
Disposal

3
Relatively unreactive organic reagents should be collected in container A. If halogenated, they should be collected in container B. For solid residues use container C.
Toxicological data

LD 50 oral
LD50 rat 2500 mg/kg
Specifications

Assay (HPLC, area%)
98 %
Melting range
- lower value
163oC
- upper value
166oC
Identity (IR)
passes test