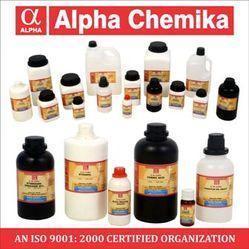 Ammoniated Mercury
Product Description
We are identified as one of the leading organizations, engaged in offering our clients Ammoniated Mercury. This chemical is used as a stabilizing agent for chemicals and analytical samples. At our sound processing unit, we process this chemical using best quality compounds. This chemical is widely used in photography, disinfectants, wood preservatives and fungicides. We pack this Mercuric Ammonium Chloride in moisture free bottles to ensure safe transportation. Also, we offer this chemical at affordable prices.
Specifications :-
Product Name : Ammoniated Mercury, Mercuric Ammonium Chloride
Synonyms : Mercuric Amidochloride, Mercuric Ammonium Chloride, Infusible White Percipitate, Mercury(II) Amide Chloride.
CAS NO : 10124-48-8
Appearance : Fine white powder
Odor : Odorless
Residue on ignition : 0.2% max
Moisture Content : 1.0% max
Mercurous Compounds : 0.2% max
Assay : 98% min
Application :-
This compound is used as an antiseptic skin & opthalmic ointment.
Also used to treat impetigo, minor skin infections, psoriasis.
Precutions :-
Excessive use may irritate the skin and may cause dermatitis, so consult your pharmacist.
Features :-
Slightly soluble in water
Accurate composition
Longer shelf life