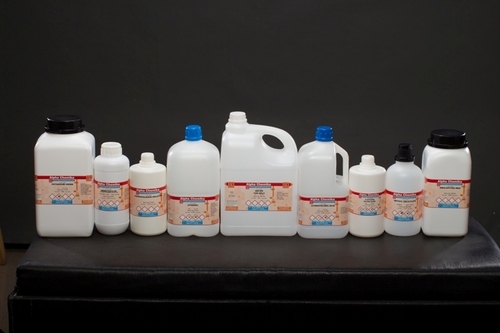 Azure A
Product Code : AL0525
Price And Quantity
Minimum Order Quantity

:

5 GM
Unit of Measure

:

Kilograms/Kilograms
Product Specifications
CAS No

:

531-53-3
Grade

:

Laboratory Grade
Product Description
Azure A is also known to be Dimethylthionine and Giemsa stain which acts as a basic cationic dye. The chemical formula and molecular weight of the mentioned organic compound is C14H14ClN3S and 291.797 g/mol, respectively. Offered compound appears to be light blue or dark blue in color and can be used while conducting screening test of mucopolysaccharides. It renders high stability but is sometimes incompatible with oxidizing agents that are highly strong in nature. When combined with silver, it find application in quantifying glycosaminoglycans that are present in agarose gels. Moreover, chromosomes can be stained inside the nucleus by using our provided Azure A.
Specifications of Azur A :-


Product Name : AZUR A for microscopy, Azure A
C.I. No. : 52005
Formula : C14H14ClN3S
M.W. : 291.80
Absorption : max. 620-634 nm(For staining cell granules, microorganisms,and other tissues.)
Un No. : NR
TARIFF : 3204 90 00
S : 22-24/25
Beilstein Registry Number : 3922287
MDL Number : MFCD00012112
Color Index Number : 52005
EC Number : 208-510-7
PubChem Substance ID : 24891073
Solubility : Soluble in Water
Storage : Store at room temperature


Applications :-
Azure A chloride has been used for the staining of polyacrylamide gel.
Used for the determination of the sulphated groups content in ploysaccharides.