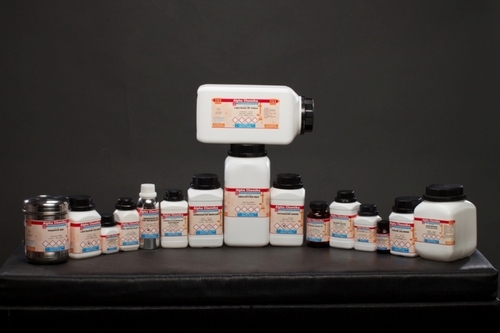 Azure B
Product Code : AL0526
Price And Quantity
Minimum Order Quantity

:

5 GM
Unit of Measure

:

Kilograms/Kilograms
Product Specifications
CAS No

:

531-55-5
Grade

:

Laboratory Grade
Product Description
Azure B is effective for staining of chromosomes. It's a cationic dye, and component of the Romanowsky stain. Also, it is utilized for the localization of nucleic acids and staining of blood films. It is secure for the use and meets the industrial standard. The best and suitable dye is Azure B. Its alternative names are: Azure I, Methylene Azure, and Trimethylthionine chloride. The dye is used for staining semi-thin segments of the plant tissues, and for distinguishing DNA (blue-green) and cellular RNA (purplish). It is helpful in the methods such as NCCLS for blood smears and Nocht's for paraffin sections. We keep up with needful composition, chemical & physical properties, and safe packaging. One should prepare & use the solution on the same day.


Chemical Specifications of Azure B:-


C.I. No. : 52010
Formula : C15H16ClN3S
M.W. : 305.83
Absorption max. 648-655 nm
Un No. : NR
TARIFF : 3204 90 00
R : 22 ; S : 22-24/25
Beilstein Registry Number : 3922630
Color Index Number : 52010
EC Number : 208-511-2
MDL Number : MFCD00011935
PubChem Substance ID : 24890740
Composition : Dye content, >89%
Solubility : Water Soluble 1mg/ml
Fluorescence : 648 in ethanol
Melting Point : 205degC
Dye Content : 90.0% min
Loss on drying : 5.0%


Applications :-
Azure B has been used for the staining of chromosomes.
Used for the staining of blood films.
Used for the localization of nucleic acids.