Barium carbonate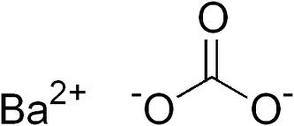 Barium carbonate
Price And Quantity
500

, Milliliter/Milliliters
Product Description
It is used in the manufacturing of certain grade ceramics to enhance the scratch resistance. We have a team of self motivated and proficient professionals, helps us in emerging as a trusted organization engaged in offering Barium Carbonate. To comply with set industrial norms, we use quality grade compounds to process this chemical. Also, this chemical is used in the glass manufacturing to increase the refraction and scratch resistivity of the glass. Barium Carbonate is highly demanded in pigment, metallurgical and plastic industry.
Features:
White amorphous powder
Soluble in acids
Odorless and longer shelf life

LC713 Barium carbonate
for analysis EMSURE ACS,Reag. Ph Eur
| | | | |
| --- | --- | --- | --- |
| Order number | Packaging | Quantity | Price |
| AC27713 | Plastic bottle | 250 g | 45.00 |
| AC27713 | Plastic bottle | 1 kg | 87.75 |
Product information
Grade
ACS,Reag. Ph Eur
Hill Formula
CBaO3
Chemical formula
BaCO3
HS Code
2836 60 00
EC number
208-167-3
Molar mass
197.34 g/mol
EC index number
056-003-00-2
CAS number
513-77-9
Chemical and physical data

Solubility
0.02 g/l (20oC)
Melting point
>1450oC (decomposition)
Molar mass
197.34 g/mol
Density
4.43 g/cm3 (20oC)
Bulk density
350 kg/m3
pH value
7 - 8 (0.016 g/l, H2O, 16oC)
Safety information
R Phrase
R 22
Harmful if swallowed.
S Phrase
S 24/25
Avoid contact with skin and eyes.
Categories of danger
harmful
Hazard Symbol
Harmful
RTECS
CQ8600000
Storage class
10 - 13 Other liquids and solids
WGK
WGK 1 slightly water endangering
Disposal
14
Inorganic salts: Container I. Neutral solutions of the these salts: Container D. Before placing in Container D, check the pH with pH-Universal indicator strips (Item No. 109535).
Transport information
Declaration (transport by sea) IMDG-Code
UN 1564 BARIUM COMPOUND, N.O.S., 6.1, III
Declaration (transport by air) IATA-DGR
UN 1564 BARIUM COMPOUND, N.O.S., 6.1, III
Toxicological data
LD 50 oral
LD50 rat 418 mg/kg
Specifications
Assay (complexometric, BaCO3)
99.0 - 101.0 %
Substances insoluble in hydrochloric acid
0.015 %
Chloride (Cl)
0.002 %
Sulphide (S)
0.001 %
Heavy metals (as Pb)
0.001 %
Ca (Calcium)
0.02 %
Fe (Iron)
0.001 %
K (Potassium)
0.005 %
Na (Sodium)
0.02 %
Sr (Strontium)
0.3 %
Total of alkali (water soluble)
0.002 meq/g
Oxidizing Substances (as NO3)
0.005 %