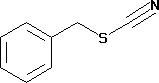 Benzyl Thiocyanate
Product Description
In the last few years we have established ourselves as one of the most prominent organizations engaged in offering Benzyl Thiocyanate. We use optimum quality compounds, sourced from trusted vendors to process this chemical. It is used as catalyst for analytical chemistry and also as chemical synthesis. Our chemical is widely used in chemical, pharmaceutical, fertilizer and food industry. Benzyl Thiocyanate is packed in glass bottles to ensure safe transportation. We offer this chemical at market leading prices to clients.
Features:
Extended shelf life
Low melting point
Accurate composition

LC839 Benzyl thiocyanate for synthesis
| | | | |
| --- | --- | --- | --- |
| Order number | Packaging | Quantity | Price |
| AC27839 | Glass bottle | 250 g | 40.05 |
Product information

Synonyms

Thiocyanic acid benzyl ester, Benzyl rhodanide

Hill Formula

C8H7NS

Chemical formula

C6H5CH2SCN

HS Code

2930 90 99

EC number

221-144-2

Molar mass

149.21 g/mol

Storage

Store below +15°C.

CAS number

3012-37-1
Chemical and physical data

Solubility

0.1 g/l (20 °C)

Melting point

38 - 41 °C

Molar mass

149.21 g/mol

Density

1.32 g/cm3 (20 °C)

Boiling point

230 °C

Flash point

110 °C
Safety information

R Phrase

R 20/21/22-32-52/53
Harmful by inhalation, in contact with skin and if swallowed.Contact with acids liberates very toxic gas.Harmful to aquatic organisms, may cause long-term adverse effects in the aquatic environment.

S Phrase

S 13-61
Keep away from food, drink and animal feedingstuffs.Avoid release to the environment. Refer to special instructions/ Safety data sheets.

Categories of danger

harmful, dangerous for the environment

Hazard Symbol

Harmful

RTECS

XK8155000

Storage class

10 - 13 Other liquids and solids

WGK

WGK 2 water endangering

Disposal

6
Sulfides and sulfites as well as other reducing substances, inorganic cyanides and isonitriles: Stir into sodium hypochlorite solution (Cat. No. 105614) and, if necessary, leave to react for several days. Caution: some substances may show a violent reaction! Draw off any toxic or flammable gases that may be formed. Excess oxidant should be neutralized with sodium thiosulfate (Cat. No. 106513). Container D or E.
Transport information

Declaration (transport by sea) IMDG-Code

UN 2811 TOXIC SOLID, ORGANIC, N.O.S.(BENZYLTHIOCYANATE), 6.1, III

Declaration (transport by air) IATA-DGR

UN 2811 TOXIC SOLID, ORGANIC, N.O.S.(BENZYLTHIOCYANATE), 6.1, III
Specifications

Assay (GC, area%)

98 %

Melting range
- lower value

38 °C

- upper value

41 °C

Identity (IR)

passes test