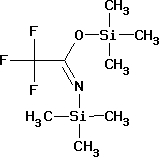 Bis(trimethylsilyl)trifluoroacetamide
Product Code : LC583
Product Description
Commenced in the year 1962, we are recognized in the market as the most dependable manufacturer and exporter of Bis(trimethylsilyl)trifluoroacetamide. It is used as derivatives for hydroxyl and other stable trimethylsilyl group chemicals. To process this chemical, our diligent workforce uses quality grade compounds, sourced from trusted vendors. Bis(trimethylsilyl)trifluoroacetamide is also used for analytical purposes and as a reagent for chemical synthesis. We offer this chemical at market leading prices to clients.
Features:
Colorless and odorless

Low melting point

Excellent silylation reagent
Further Details:
LC583 Bis(trimethylsilyl)trifluoroacetamide
| | | | |
| --- | --- | --- | --- |
| Order number | Packaging | Quantity | Price |
| AC27583 | Glass bottle | 5 ml | 35.325 |
| AC27583 | Glass bottle | 25 ml | 140.40 |
Product information

Synonyms

2,2,2-Trifluoro-N,O-bis(trimethylsilyl)acetamide

Hill Formula

C8H18F3NOSi2

HS Code

2931 00 99

EC number

247-103-9

Molar mass

257.40 g/mol

CAS number

25561-30-2
Chemical and physical data

Solubility

(20oC) Hydrolysis

Molar mass

257.40 g/mol

Density

0.97 g/cm3 (20oC)

Boiling point

145oC

Flash point

34oC
Safety information according to GHS

Hazard Statement(s)

H226: Flammable liquid and vapour.
H315: Causes skin irritation.
H319: Causes serious eye irritation.

Precautionary Statement(s)

P210: Keep away from heat.
P302 + P352: IF ON SKIN: Wash with plenty of soap and water.
P305 + P351 + P338: IF IN EYES: Rinse cautiously with water for several minutes. Remove contact lenses, if present and easy to do. Continue rinsing.

Signal Word

Warning

Hazard Pictogram(s)




Storage class

3 Flammable Liquids

WGK

WGK 2 water endangering

Disposal

3
Relatively unreactive organic reagents should be collected in container A. If halogenated, they should be collected in container B. For solid residues use container C.
Safety information

R Phrase

R 10
Flammable.

S Phrase

S 23-26
Do not breathe vapour.In case of contact with eyes, rinse immediately with plenty of water and seek medical advice.

Categories of danger

flammable, irritant

Hazard Symbol

Irritant

R Phrase

R 10
Flammable.

Categories of danger

flammable
Transport information

Declaration (transport by sea) IMDG-Code

UN 1993 FLAMMABLE LIQUID, N.O.S.(BIS(TRIMETHYLSILYL)-TRIFLUOROACETAMIDE), 3, III

Declaration (transport by air) IATA-DGR

UN 1993 FLAMMABLE LIQUID, N.O.S.(BIS(TRIMETHYLSILYL)-TRIFLUOROACETAMIDE), 3, III
Specifications

Assay (GC, area%)

98 %

Identity (IR)

passes test