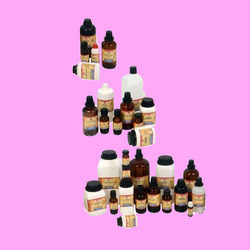 COOMASIE BRILLIANT
Product Code : AL0801
Price And Quantity
Minimum Order Quantity

:

5 GM
Unit of Measure

:

Kilograms/Kilograms
Product Specifications
CAS No

:

6104-59-2
Grade

:

Laboratory Grade
Product Description
Coomassie Brilliant is similar to the name of triphenymethane dye that was introduced to find usage in the textile industry. In present time, it finds usage to stain and dye proteins during the experiments of anyalytical biochemistry. Color of the dyes that fall under Coomassie Brilliant depends upon the acidity possessed by the solution. Being non-covalent in nature, the mentioned dye interacts electrostatically with the proteins, carboxyl groups and amino. Moreover, it forms a complex structure when combined with sodium dodecylsulfate.


Certificate of Analysis :-
Name : COOMASIE BRILLIANT BLUE R 250


Synonyms : Acid Blue 83, Brilliant indocyanine 6B, Brilliant Cyanine 6B, Serva Blue R

Chemical Formula : C45H44N3NaO7S2

Molar Mass : 825.97 g/mol

PubChem CID : 61365

Beistein Registry Number : 5718025

EC Number : 228-060-5

Absorption : 589.2 nm

C.I. : 42660

pH : 6.2

HS Code : 3204-12-00

M.P. 174 – 180 deg C

Grade : For Microscopy

Solubility : 20 g/l

Loss on drying max. : 5%
Suitability for : Electrophoresis passes test
Un No. NR TARIFF : 3204 90 00
S : 22-24/25


Applications :-

During western blot analysis, Coomassie finds application within a loading control staining method to stain the proteins. Rats that are used in the laboratories to perform experiments, Coomassie helps in treating their spinal injuries.