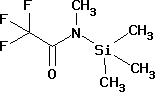 Methyl-N-trimethylsilyl-trifluoroacetamide
Product Code : LC4144 N
Product Description
Being an ISO 9001:2008 certified organization, our forte is to offer an exclusive array of Methyl-N-trimethylsilyl-trifluoroacetamide. These highly flammable liquids are used to form volatile derivatives for GC-MS analysis. Our Methyl-N-trimethylsilyl-trifluoroacetamide processed at our facility by using quality approved compounds under the observation of veteran professionals, as per the laid norm and guidelines set by chemical industry. Furthermore, we export these liquids to various international markets including Saudi Arabia and Germany.
Features:
Precise composition
For chemical synthesis

Soluble in acetone

Further Details:

LC4144 N-Methyl-N-trimethylsilyl-trifluoroacetamide
for synthesis
| | | | |
| --- | --- | --- | --- |
| Order number | Packaging | Quantity | Price € |
| AC31144 | Glass bottle | 5 ml | 34.88 |
| AC31144 | Glass bottle | 25 ml | 123.3 |
Product information
Synonyms
MSTFA
Hill Formula
C6H12F3NOSi
HS Code
2931 00 99
EC number
246-331-6
Molar mass
199.25 g/mol
CAS number
24589-78-4
Chemical and physical data
Molar mass
199.25 g/mol
Density
1.097 g/cm3
Boiling point
130 - 132 °C (1013 hPa)
Flash point
25 °C
Safety information according to GHS
Hazard Statement(s)
H226: Flammable liquid and vapour.
H315: Causes skin irritation.
H319: Causes serious eye irritation.
H335: May cause respiratory irritation.
Precautionary Statement(s)
P210: Keep away from heat.
P302 + P352: IF ON SKIN: Wash with plenty of soap and water.
P304 + P340: IF INHALED: Remove victim to fresh air and keep at rest in a position comfortable for breathing.
P305 + P351 + P338: IF IN EYES: Rinse cautiously with water for several minutes. Remove contact lenses, if present and easy to do. Continue rinsing.
Signal Word
Warning
Hazard Pictogram(s)


Storage class
3 Flammable Liquids
WGK
WGK 3 highly water endangering
Disposal
3
Relatively unreactive organic reagents should be collected in container A. If halogenated, they should be collected in container B. For solid residues use container C.
Safety information
R Phrase
R 10-36/37/38
Flammable.Irritating to eyes, respiratory system and skin.
Categoriesofdanger
flammable, irritant

Hazard Symbol
Irritant

Transport information
Declaration (transport by sea) IMDG-Code
UN 1993 FLAMMABLE LIQUID, N.O.S.(N-METHYL-N-(TRIMETHYLSILYL)-2,2,2-TRIFLUOROACETAMIDE), 3, III
Declaration (transport by air) IATA-DGR
UN 1993 FLAMMABLE LIQUID, N.O.S.(N-METHYL-N-(TRIMETHYLSILYL)-2,2,2-TRIFLUOROACETAMIDE), 3, III
Specifications
Assay (GC, area%)
≥ 97 %
Identity (IR)
passes test