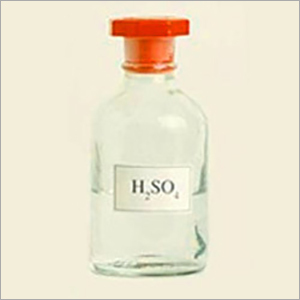 Sulphuric Acid
Product Description
Sulphuric acid is a very strong acid and in aqueous solution it ionizes completely to form hydronium ions and hydrogen sulfate ions. Concentrated sulphuric acid is also a strong dehydrating agent, combining violetly with water.


Specifications :-
Synonyms : Oil of vitriol, hydrogen sulfate, Dihydrogen sulfate, mattling acid.
Molecular Formula : H2O4S
Average mass : 98.078
Monoisotopic mass : 97.967377 Da
ChemSpider ID : 1086
PubChem CID : 1118
Appearance : Colorless to dark brown, oily, colorless liquid.
Specific Gravity : 1.830 @ 25°C


Applications :-
In fertilizer manufacturing , oil refining, wastewater processing.
Used in domestic acidic drain cleaners
As an electrolyte in lead acid batteries.
In chemical industry and chemical synthesis.


Features :-
Corrosive strong mineral acid.
Diprotic acid.
Having strong oxiding properties.
Hygroscopic in nature.