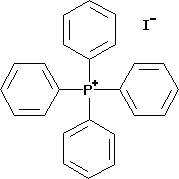 Tetraphenylphosphonium Iodide
Product Description
This chemical is used to generate lipophilic salts from inorganic anion. We have been recognized amongst the leading organizations engaged in offering our clients Tetraphenylphosphonium Iodide. We process this chemical in compliance with set safety norms, using best quality compounds. Moreover, our chemical is useful as a phase transfer catalyst and chemical synthesis. Tetraphenylphosphonium Iodide is soluble in organic media, a wide range of solvents can be employed for its crystallization. We offer this chemical at reasonable prices.
Features:

Colorless solid
High melting point
Dissolves in organic solvents

LC5781 Tetraphenylphosphonium iodide for synthesis

| | | | |
| --- | --- | --- | --- |
| Order number | Packaging | Quantity | Price |
| AC32781 | Glass bottle | 5 g | 36.45 |
Product information
Hill Formula
C24H20IP
HS Code
2931 00 99
EC number
218-179-0
Molar mass
466.3 g/mol
CAS number
2065-67-0
Chemical and physical data
Melting point
338 - 340oC
Molar mass
466.3 g/mol
Safety information according to GHS
Hazard Statement(s)
H315: Causes skin irritation.
H319: Causes serious eye irritation.
H335: May cause respiratory irritation.
Precautionary Statement(s)
P302 + P352: IF ON SKIN: Wash with plenty of soap and water.
P304 + P340: IF INHALED: Remove victim to fresh air and keep at rest in a position comfortable for breathing.
P305 + P351 + P338: IF IN EYES: Rinse cautiously with water for several minutes. Remove contact lenses, if present and easy to do. Continue rinsing.
Signal Word
Warning
Hazard Pictogram(s)


Storage class
10 - 13 Other liquids and solids
WGK
WGK 3 highly water endangering
Disposal
3
Relatively unreactive organic reagents should be collected in container A. If halogenated, they should be collected in container B. For solid residues use container C.
Safety information
R Phrase
R 36/37/38
Irritating to eyes, respiratory system and skin.
Categories of danger
irritant
Hazard Symbol
Irritant
Specifications
Assay (HPLC, area%)
98 %
Melting range
- lower value
338oC
- upper value
342oC
Identity (IR)
passes test