Ammonium Cerium(IV) Nitrate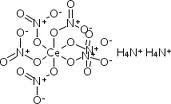 Ammonium Cerium(IV) Nitrate
Price And Quantity
500

Milliliter/Milliliters
Product Description
Ammonium Cerium(IV) Nitrate
Our aim is to provide quality assured products to our valuable clients by offering Ammonium Cerium(IV) Nitrate. This chemical is used as intermediate for alcohol, ether and phenol. At our sophisticated processing unit, we process this chemical using best quality compounds. Offered chemical is used in chemical, dye, pigments and solvent industry. Ammonium Cerium(IV) Nitrate is packed in quality grade glass bottles and stored in dry place till the time of final shipment.
Features:
Orange-red crystals

Oxidizing agent

Water soluble
LC223 Ammonium cerium(IV) nitrate for analysis EMSURE ACS,Reag. Ph Eur
| | | | |
| --- | --- | --- | --- |
| Order number | Packaging | Quantity | Price |
| AC27223 | Plastic bottle | 100 g | 43.2 |
| AC27223 | Plastic bottle | 1 kg | 353.7 |
Product information

Grade

ACS,Reag. Ph Eur

Synonyms

di-Ammonium-hexanitratocerate(IV), Cerium(IV) ammonium nitrate

Hill Formula

H8CeN8O18

Chemical formula

(NH4)2[Ce(NO3)6]

HS Code

2846 10 00

EC number

240-827-6

Molar mass

548.22 g/mol

CAS number

16774-21-3
Chemical and physical data

Solubility

1410 g/l (20 C)

Melting point

108 C

Molar mass

548.22 g/mol

Density

2.49 g/cm3

Bulk density

1200 kg/m3

pH value

1 (50 g/l, H2O, 20 C)
Safety information

R Phrase

R 8-22-41
Contact with combustible material may cause fire.Harmful if swallowed.Risk of serious damage to eyes.

S Phrase

S 17-26-39
Keep away from combustible material.In case of contact with eyes, rinse immediately with plenty of water and seek medical advice.Wear eye/face protection.

Categories of danger

oxidizing, harmful, irritant

Hazard Symbol

Oxidising

Harmful

Storage class

5.1 B Oxidizing agents (TRG 515 Group 2+3)

WGK

WGK 1 slightly water endangering

Disposal

14
Inorganic salts: Container I. Neutral solutions of the these salts: Container D. Before placing in Container D, check the pH with pH-Universal indicator strips (Item No. 109535).
Transport information

Declaration (transport by sea) IMDG-Code

UN 3087 OXIDIZING SOLID, TOXIC, N.O.S.(AMMONIUM CERIUM(IV) NITRATE), 5.1 (6.1), II

Declaration (transport by air) IATA-DGR

UN 3087 OXIDIZING SOLID, TOXIC, N.O.S.(AMMONIUM CERIUM(IV) NITRATE), 5.1 (6.1), II
Toxicological data

LD 50 oral

LD50 rat > 200 - 2000 mg/kg
Specifications

Assay (oxidimetric, (NH4)2Ce(NO3)6)

99.0 %

Substances insoluble in diluted sulfuric acid

0.005 %

Chloride (Cl)

0.001 %

Phosphate (PO4)

0.005 %

Heavy metals (as Pb)

0.002 %

Fe (Iron)

0.003 %

Na (Sodium)

0.005 %
Trade Information
50 Kilogram Per Week

4-5 Days
Yes

Contact us for information regarding our sample policy